Home
-
Return to Previous Page
Banks PedalMonster Throttle Sensitivity Booster
Description
What Is It?
PedalMonster is the first OBD-II connected throttle sensitivity controller for gas and diesel vehicles. Controlled via Banks iDash or mobile app, PedalMonster is the only module of its kind to offer safety features like ActiveSafety®, Reverse Safety and Adjustable Low-Speed Trim.
City, Sport, and Track modes, each with 10 sensitivity levels
OBD-II connected
ActiveSafety failsafe circuitry
Reverse safety returns pedal to stock in reverse gear
Adjustable Low-Speed Trim controls how fast sensitivity is added at slow speeds
Powered by +12v via OBD, not low-overhead pedal circuit
Controlled by iDash DataMonster, iDash SuperGauge and mobile app
View PedalMonster's activity in real-time via iDash and mobile app
Simple plug-and-play installation
Warranty friendly. Does not leave footprint after removal.
---
Customize
City, Sport and Track, each with 10 levels of refinement, allows you to tune out "dead spots" found in many pedals, making your throttle more responsive. PedalMonster can be adjusted on-the-fly through the iDash and phone application. Simply take your foot off the pedal momentarily to adjust the mode or sensitivity level.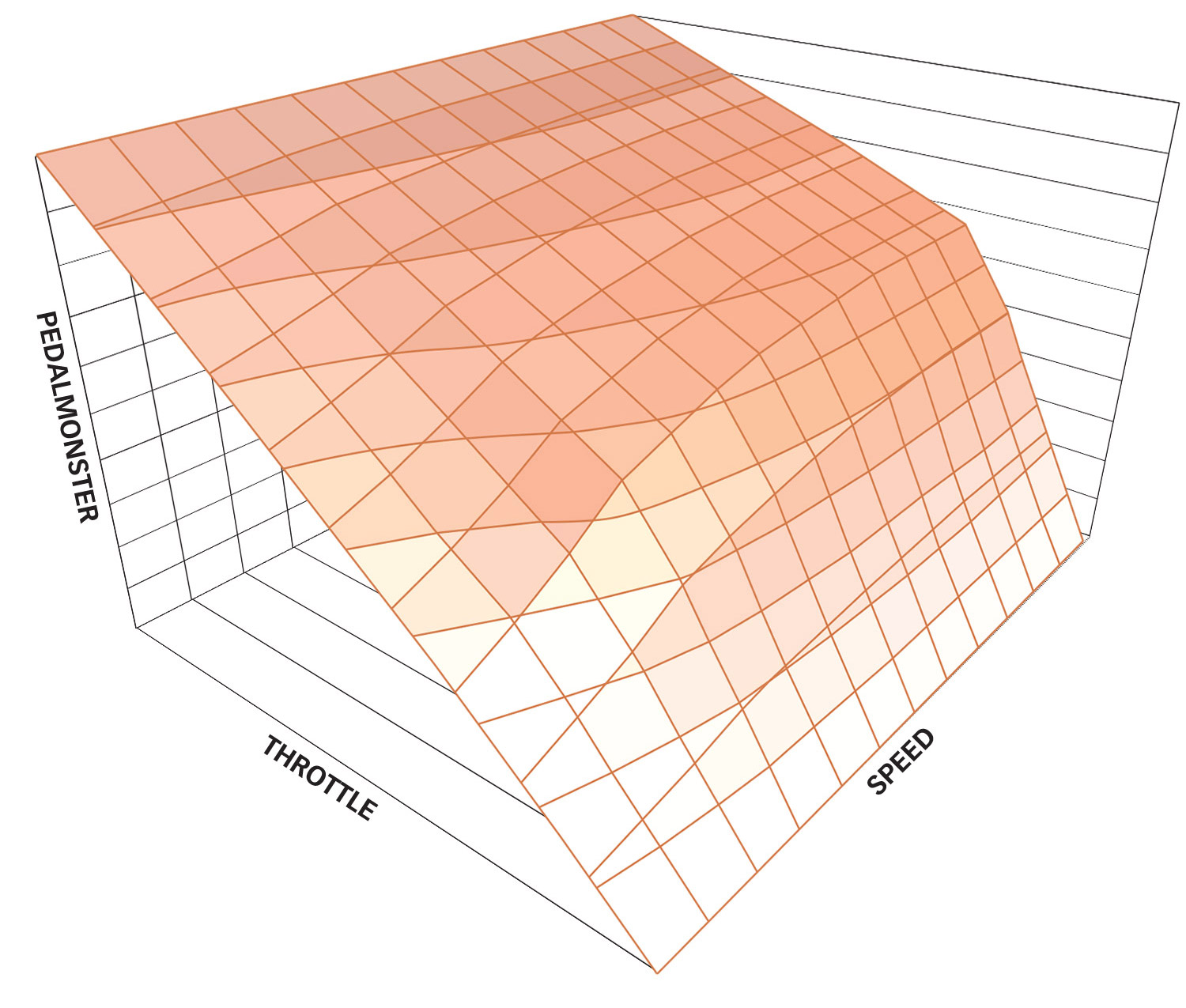 TRACK
10 levels of increased sensitivity in the lower pedal travel range with boosted resolution in the upper travel range for finer control on the track. More power is delivered sooner making it ideal for performance and track use.
SPORT
10 levels of improved sensitivity throughout for a more responsive driving experience. Gives your vehicle a sportier feel with a focus on the mid- to high-level throttle. More power is delivered in the mid-range ideal for when you want more get-up-and-go.
CITY
10 levels mapped for a linear characteristic throughout the pedal travel. Gives a more responsive feeling while retaining a smooth driving experience. Power is focused more on the higher range to prevent unintentional quick acceleration around town, ideal for city driving.
Control 
PedalMonster is controlled via iDash DataMonster, iDash SuperGauge, and PedalMonster mobile app. View PedalMonster's activity in real-time. When used with iDash, monitor vital engine and transmission OBD-II data, control PedalMonster, Derringer tuner, and other Banks modules.
OBD-II Connected
PedalMonster is the ONLY throttle sensitivity controller connected via the vehicle's OBD-II port (onboard diagnostics) reading vehicle data, allowing for unmatched control and safety. OBD-II data makes the following possible:
Safety
PedalMonster is the ONLY throttle sensitivity device with ActiveSafety®. In the event of an internal or external circuit failure the system's seamlessly returns the pedal to stock. When all other devices fail, they leave the vehicle inoperable leading to dangerous situations. Imagine losing power while passing on a two-land road while heading into oncoming traffic.
All modern throttle pedals communicate with the vehicle's ECM via two distinct signals (APP1 and APP2). This is done for safety. PedalMonster's Watchdog Circuitry constantly checks for signal linearity between these two signals and monitors input and output values. If it detects any irregularities, PedalMonster returns to stock.
PedalMonster's internal circuitry is powered by the reliable +12 volt OBD-II connector. Competitive devices draw current directly from the low-overhead +5 volt throttle pedal circuit, often rendering the vehicle inoperable leading to dangerous situations.
Reverse Safety
PedalMonster returns the vehicle to stock throttle response when in reverse gear (availability varies by vehicle).
Adjustable Low-Speed Trim
This feature allows the driver to adjust the rate at which PedalMonster adds sensitivity at speeds under 10 mph. This helps to avoid spinning the tires in low speed turns or on slippery surfaces.
How PedalMonster Differs From Competitors
Shipping Information
Item Requires Shipping
2.0 lbs.
W4.0000" x H6.0000" x L2.0000"
Free Shipping - Ground
Customer Reviews
Total Reviews (0)
You must login to post a review.
---